Lion Cub JC Portable Power Bank, Jump Starter & Air Compressor
The Lion Cub JC provides portable power to jump-start your vehicle, provide air to tires, and power to many USB devices i.e. phone, cameras, lamps, tablets.
The Lion Cub JC is Like a Roadside Assistance Service When You're in Need.
It comes with a Jump Starter and Cables, an Air Compressor to Inflate Low Tires, a Built-in 3-Stage Flashlight, and Two USB Charging Ports.
Multi-Use & Light Weight

Jump-start your vehicle, inflate a low tire, use as a flashlight, charge your phone, cameras, lamp, tablets, etc. At under 5 lbs you can take it anywhere.

Jump Starter

Jump-start cars, light trucks, boats, ATV and more. No more long cables or needing another vehicle to jump your vehicle. Provides up to 20 jumps on a single charge.

Air Compressor

Easily inflates low tires up to 120 psi. Easy to use and read digital display with auto off.

USB Power

Don't be caught without power for you USB devices. Just plug them into the USB output and get recharged.

Safety

Made from Lithium Iron Phosphate, it's the safest technology on the market. You can use it indoors or outdoors. It even has a 3 stage flashlight (SOS, Strobe, Standard).

Extended Life

Long lasting life cycles at 2,500+ using full depth of discharge (DOD). The Lion Cub JC can hold a charge for up to 1 year, but can still be used every day.
Where and When to Use Your Lion Cub JC Portable Power Bank, Jump Starter & Air Compressor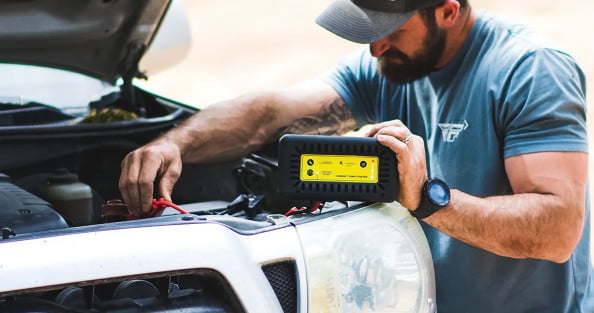 Jump-Start Vehicles
Have a dead battery and all alone? Jump-start your car, light truck, ATV, compact tractor, or boat using the supplied jumper cables.
---
Power Your Devices
Go longer and play harder knowing that you have a powerful portable battery that can charge your USB devices.
Inflate Low Tires
Need some air for a low tire? No worries, with the 120 psi air compressor you can inflate low tires or get an adaptor and use it to fill inflatables like paddle boards and flotation devices.
---
See In the Dark
You never know when you will be left in the dark… along the side of road, camping, or in a power outage at home. Use the flash and strobe light for any situation.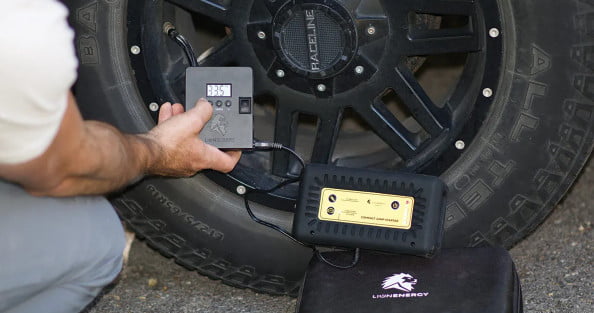 Why We Use Lithium Iron Phosphate
Lithium Iron Phosphate, or LiFePO4, batteries are one of the most durable and reliable energy sources on the market and a drastic improvement over lead-acid in safety, weight, capacity and shelf life.
How the Lion Cub JC Stacks up to Others
The Lion Cub JC delivers more cranking amps which is exactly what you want when it comes to starting a dead battery. You don't want to worry about not having enough power to get the job done.
The Cub JC holds its power for 4 – 6X longer than others, so you can rest assured it is going to work when you need it.
At just over 4 lbs, you get more power with less weight and the Cub JC is made with the safest, long lasting technology – Lithium Iron Phosphate.



Lion Cub JC

STANLEY FatMax 700

Cobra JumPackXL

NOCO

One Set of 8 LED Bulbs ~ 3 Settings