Lion Eclipse Portable Power Bank
The Lion Eclipse is an amazing portable power device that can wirelessly charge Qi enabled smart phones, earbuds and watches – all at once or one at a time – and can even do USB charging. It is TSA airline approved, compact, and easy to use.
There's so much to love about the Lion Eclipse Portable Charger
No more need to carry multiple charging devices or cords. The Lion Eclipse is a 3-in-1 plus USB charging unit, small enough to fit in your pocket, purse, backpack or briefcase. And it can be recharged in 90 mins… that's amazingly fast!
Fast Charge

High-capacity fast-charging USB-A and USB-C Power Delivery (PD) to charge your devices. You can fully charge from the wall in as little as 1.5 hours.

3-in-1 Wireless + USB Charging

Wirelessly charge any Qi smart phone, earbuds, watch plus USB devices – all at once or one at a time.

Grab and Go

Small enough to fit into your travel bag, purse or briefcase, yet powerful enough to charge multiple devices at the same time. Is TSA approved for use on an airplane.

Extended Use

Long lasting life cycles at 1,000+, which means you can use it over and over again. It can hold a charge for up to 1 year.

Safety

Made from safe Lithium, which is one of the safest tech on the market today. You can use it indoors or outdoors.

Cut the Cord

Eliminate the clutter of multiple chargers and cords. Simplify your life.
You Can Use Your Lion Eclipse Portable Power Bank Anywhere!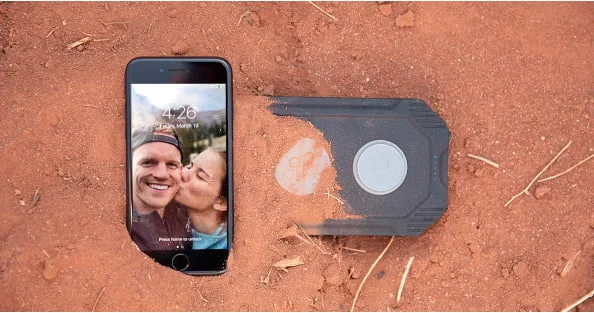 For Work Or Play
Technology is part of our lives. Many of us have smart phones, watches, earpods, laptops, etc. that we are constantly using at the office or when we're enjoying life. We're not happy when they don't have power. Feel confident and safe knowing you can charge many of the things you need from your office or during your day. You can have the freedom to do your thing and still be connected when you want to.
On The Go / Traveling by Air
When getting ready for your next adventure or trip, know that you can power all your devices so you can stay longer and do more. With the Lion Eclipse you can charge all your devices all at once – that means no pits stops for powering up – and you get to enjoy your time at your destination longer while not having to wait for multiple devices to charge.
Take it with you camping, road trips, on the beach, in the mountains, or any outing. The Lion Eclipse is for all your portable power needs. It is TSA approved so you can take it with you on the plane.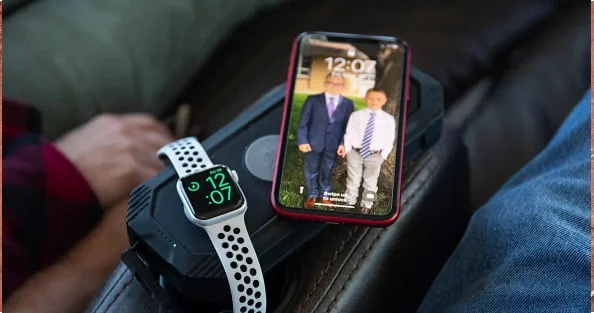 How the Lion Eclipse Stacks up to Others
At 27,000 mAh, the Lion Eclipse delivers more power compared to the next closest power bank.
We give you more charging options at a faster charge time than any of the other brands. The Eclipse can charge laptops and other newer devices where others are limited.
Because of our fast charge technology, the Lion Eclipse will charge in a fraction of the time at 1.5 hrs compared to 9+ hrs for others.
The Lion Eclipse is small, sleek and makes you look good too!



Lion Eclipse

Goal Zero Sherpa

Anker Essential 20000

3X Qi Wireless Charger - 10W / 5W / 2W
2X USB-A Ports - 5V @ 2.4A Each
1X USB-C Port - PD 60W / 85W

1X Qi Wireless Charger - 5W
2X USB-A Ports - 5V @ 2.4A Each
1X USB-C Port PD 60W