Lion Safari ME Solar Generator
The Safari ME is a powerful lithium solar generator that powers virtually anything you can plug into a standard wall outlet (15A)
Lion Safari ME Outputs
Multiple Outputs Allow You to Charge Lots of Different Devices
There's Lots to Love About the Lion Safari ME Solar Generator
Exceptionally fast charging times, multiple outputs, safety for you and the environment, and more!
Renewable Solar Generator

Use the power of the sun to fully recharge the ME in as little as 95 mins so you can use power without running out of power.

Faster Charge Time

If you prefer to recharge it from a wall outlet, it takes just under 90 minutes to
recharge… completely from empty to full!

Multiple Outlets Let You Power Almost Anything

Because it has so much power and multiple output types such as AC, USB or 12V,
virtually anything you can plug into a standard wall outlet, the Safari ME can power. It features an initial 4000W Surge for that extra power you may need.

Pure Sine Wave

The Safari ME can be used to power medical devices such as CPAP machines.

Safety

Made with Lithium Iron Phosphate, it's the safest solar generator on the market. You can use it indoors or outdoors.

Extended Use

Long lasting life cycles at 2,500+ using full depth of discharge (DOD). It can hold a charge for over 1 year.

Expandable for More Energy

If you need more stored energy, you can expand the ME capacity by adding the
optional expansion pack called the Safari ME-XP and that gives you 3x the stored
energy as the ME alone. That means you can use it 3x longer on a single charge
with the ME and the XP combined.

Easy to Transport

It's easy to move from place to place because it's light weight compared to other
generators in its size and it has convenient carrying handles built right in.

Silent

Produces virtually no noise, so you can sleep through the night at camp or have undisturbed work or play.
Use Your Portable Lion Safari ME Power Generator Anywhere!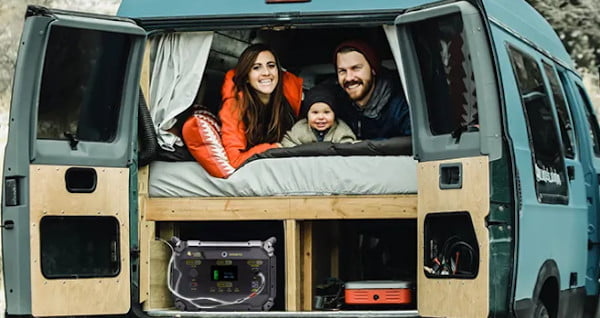 Around the House, Camping, or in an Emergency
The Lion Safari ME has such a wide variety of uses. If you're looking to power critical devices in your home, a shed, a cabin, your RV or when disaster strikes, the Safari ME is a great choice and value. Use it everyday.
At Work or Play
If you're a professional looking to power things on a job site, from power tools, to cameras and computer equipment, the Lion Safari ME will get the job done.
Take it with you camping, on an adventure, tailgating or at a BBQ and use it for all your portable power needs.
Why We Use Lithium Iron Phosphate
Lithium Iron Phosphate, or LiFePO4, batteries are one of the most durable and reliable energy sources on the market and a drastic improvement over lead-acid in safety, weight, capacity and shelf life.
How the Lion Safari ME Stacks up to Others
The Safari ME delivers more continuous watts at 2,000 compared to only 1,500 from most of the competition.
The Safari ME has a 4,000W surge rating compared to 3,000W or less surge rating of others.
Because of our fast charge technology, the Safari ME will charge in only 83 minutes compared to 8-10 hours. That's amazing!
Our life cycles jump to 3,500+ when you add on the expansion pack (ME-XP).
At only 45 pounds – you get more power with less weight.



Lion Safari ME

Goal Zero
Yeti 3000

Gateway Liberty

Inergy Kodiak

Battery Output

Continuous / Surge

Charge Time - Solar

(100W)

1.5 - 4 Hours

with up to 6 Panels