From James Corbett's "About the Corbett Report" Page:
The Corbett Report is an independent, listener-supported alternative news source. It operates on the principle of open source intelligence and provides podcasts, interviews, articles and videos about breaking news and important issues from 9/11 Truth and false flag terror to the Big Brother police state, eugenics, geopolitics, the central banking fraud and more.
The Corbett Report is edited, webmastered, written, produced and hosted by James Corbett.
An award-winning investigative journalist, James Corbett has lectured on geopolitics at the University of Groningen's Studium Generale, and delivered presentations on open source journalism at The French Institute for Research in Computer Science and Automation's fOSSa conference, at TedXGroningen and at Ritsumeikan University in Kyoto.
He started The Corbett Report website in 2007 as an outlet for independent critical analysis of politics, society, history, and economics. Since then he has written, recorded and edited thousands of hours of audio and video media for the website, including a podcast and several regular online video series.
For more information about Corbett and his background, please watch the "Who is James Corbett" edition of the Questions For Corbett podcast: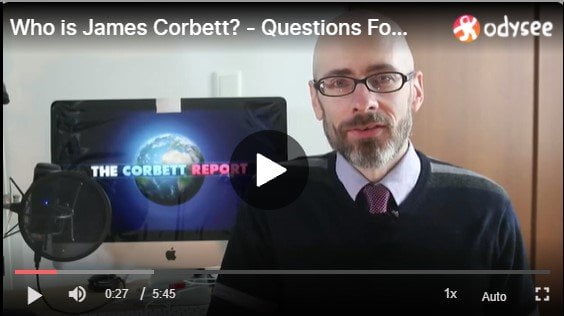 As he had predicted years ago, much of James' work has been censored.
His YouTube channel has been virtually decimated. 
Here is a link to his Odysee channel, where you can find many, if not all, of his videos. That's about fourteen years worth, as of this writing.
https://odysee.com/@corbettreport:0
I first came across his work while watching a three-way debate in which he was discussing his definition of anarchy, more aptly named voluntarism. It didn't take long, or many views of his videos, for me to realize that he is a gifted teacher, a diligent and thorough researcher, and as well as an entertaining presenter.
Below are a handful of what I would consider his "must-view" videos. This is just a small sampling of his important work, but they are a great place to start if you have not yet entered into this realm.