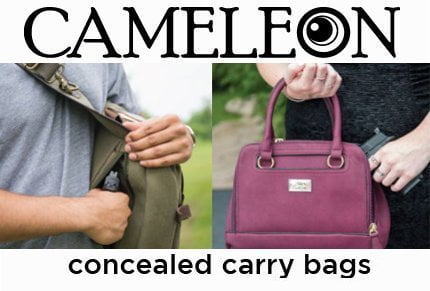 Cameleon is a market leader and trendsetter when it comes to concealed carry bags for men and women. We recognize that consumers are often forced to choose between style and function when purchasing concealed carry bags.
Our mission is to provide our customers with high quality products that offer the best value for the price. Thus, our products are designed to provide these consumers with a wide variety of styles that offer the perfect mixture of fashion and feasibility.
Contemporary consumers want a bag that can retain its color and shape with a minimum of maintenance, and therefore, we have chosen to use vegan leather in developing all of our items.
Our vegan leather is a form of faux leather of the highest standard. This supreme material ensures that all Cameleon Bags are lightweight, tough, water- and wear-resistant, and of course, comfortable and stylish.
With state of the art facilities and factories based in India that have been operational since the 1990's, Cameleon has established a global benchmark that combines beautiful design and functionality in our concealed carry bags and purses.
Each of our Cameleon concealed carry bags has its own set of specific advantages, and they complement each other superbly. We have concealed carry solutions for every occasion: fashion bags and utility bags, backpacks and more. Many of our customers purchase several bags: each one a different style for a different application.
High quality and affordability are paramount to our business, and making a fashion statement is a hallmark of all Cameleon Bags. So please take a moment and have a look at our outstanding product lines.
Click here to view our selection of Cameleon Concealed Carry Bags