Stun Gun Knife Flashlight
Fearlessly stand your ground with our multi-function Stun Gun Knife Flashlight
Just the menacing sound of the stun gun's arc of electricity can defuse a dangerous situation before it begins. But if that doesn't do the trick, with 4.8 milliamps and a whopping 20M volts, a jolt from the stun gun certainly will!
The Stun Gun Knife Flashlight features a razor-sharp 3-1/4″ folding knife blade for utility or protection if ever needed. Its ergonomic design fits comfortably in your hand and offers a superb grip.
The built-in flashlight is a blinding 120 lumen LED with three light modes. You can select from maximum, minimum, or stobe modes.
You can carry the Stun Gun Knife Flashlight in your hand, in your pocket, or wear it in the nylon belt holster that's included.
The Stun Knife comes with a charging cord to recharge the stun gun and flashlight. It uses nickel cadmium rechargeable batteries which cannot be replaced.
And it is backed by a lifetime warranty from Safety Technology, a leader in the Self-Defense and Security industry.
Features:
Powerful Stun Gun

4.8 milliamps, depending on the freshness of the batteries
20M Volts

Built-in 120 Lumen LED Flashlight
Three Light Modes: Select Maximum, Medium, or Strobe
3-1/4″ Knife Blade
Strong Aircraft Aluminum Construction
Rechargeable with Included Charging Cable
Overall Dimensions: 6-1/8″ x 2-1/8″ x 1″
Lifetime Warranty from Safety Technology
What You Get:
Stun Gun Knife Flashlight
Charging Cord
Nylon Belt Holster
Lifetime Warranty from Safety Technology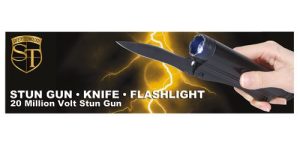 Restricted Items Notice:
Stun Guns Are Restricted in Some States.
Please See the "Stun Gun Restrictions" Tab (above) for More Information and to Determine if a Stun Gun Is Legal in Your State.
See Our Stun Gun Laws Page for More Information, Or Contact Us for Details.