Free Shipping Right to Your Door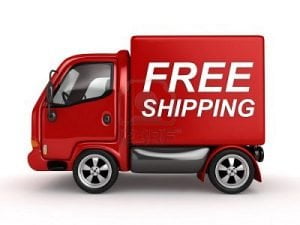 We offer free shipping on most orders over $50, delivered within the Continental U.S. Most orders will be processed within 3-7 days, depending on the particular supplier.
Some products have been impacted by recent events, and we are experiencing processing delays. Expected delivery times are indicated in the product description.
Products shipping to Alaska and Hawaii may incur additional shipping charges. If you have entered a shipping address to AK or HI, you will see a notice on the checkout page indicating that "no shipping methods are available." Please contact us, and we will assist you in completing your order. Not all products are able to be delivered to AK or HI, depending on the particular supplier.
As your order is processed, we will send you updates via email regarding its status. When your order ships, we'll send you a shipping confirmation number that you can use to track your order.
Please note that some products must be delivered to a physical address. We cannot ship food storage products or freeze dryers to Post Office Boxes.
Orders will ship via UPS, FedEx or USPS.
For orders up to 500 pounds, we'll use standard ground shipments to deliver your order right to your doorstep.
For orders exceeding 500 pounds, freight carries will handle the shipment. They will contact  you to schedule an appointment for your delivery. Your order will arrive on a truck, probably equipped with a lift gate and pallet jack. The driver will move the pallet into your garage, driveway, or an accessible location of your choice.
Also note that federal regulations may limit shipping options on certain types of orders. For example, orders containing pepper spray or aerosol propellants cannot be shipped via air freight; they must be shipped via Ground Services.
As always, if you have any questions, please feel free to contact us via email or phone, and we will be happy to assist you.