Stackable 5 Gallon Water Storage Tanks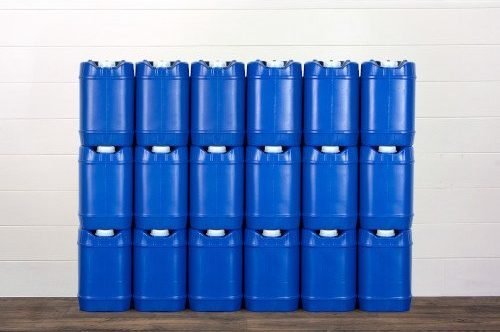 Most hardcore survivalists would tell you that having a disaster plan in place for water matters even more than food storage, especially during the first 72 hours of an emergency. And they would agree that having a minimum of one gallon of water per day per person is essential. Water storage tanks are an ideal solution to this problem.
Most of us are familiar with the huge, 55-gallon blue barrels and, inasmuch as those barrels certainly have their place, having a portable emergency water solution is crucial.
Our 5 gallon water storage tanks from Legacy are made from heavy-duty, BPA-free food-grade plastic. Each one measures roughly 15″H x 10″W x 12″D, making them highly portable, yet since they are designed to be stacked, they take up a small footprint for storage. Additionally, we've designed them with a built-in handle for easier transportation.
The tanks have a 3/4-inch threaded opening for easy filling; the cap simply screws on. We provide a spigot which simplifies pouring, and it's attached right to the cap. And the tanks have a vent cap for better control when pouring – no more glugging and splashing!
Each container holds 5 gallons of water, so each one weighs about forty pounds when full.
These food-grade containers are blue, which limits exposure to daylight and helps control the outbreak and growth of algae in your water.
Get your family's emergency water storage needs handled with a few of these heavy-duty, 5 Gallon Water Storage Tanks from Legacy. You won't regret it!
Features:
5-Gallon Heavy-Duty, BPA-Free Food Grade Plastic Construction
Ribs on Top, with Matching Vents on Bottom for Simple, Effective Stacking
Dark Blue to Control Light and Prevent Algae Growth
Spigot Included for Easy Pouring
Strap Wrench
Vent Cap Included for Smoother Pouring
3/4 Inch Threaded Opening with Cap
Built-in Handle for Convenient Transport
Weighs Roughly 40 lbs when Full of Water (H2O not included)
Approx. 15″H x 10″W x 12″D