Find Out Why Legacy Premium Foods Offers a Better Value
in Food Storage
More Variety ~ Better Tasting ~ Longer Shelf Life ~ GMO Free
Unsurpassed Quality
Legacy Premium Foods offers emergency and survival food storage products that are unsurpassed. Our products represent the best in quality of ingredients, packaging, shelf life, nutritional content, and, unlike the typical offering of the emergency food storage industry, TASTE!
Starting with only the finest ingredients, Legacy Premium provides meals that are bursting with gourmet flavors, yet are quick and easy to prepare. Simply bring water to a boil and add the contents of the pouch to the pot. Each pouch has cooking directions so you know the correct amount of water and cooking time for that meal.
Meals are low in fat, low in sodium, with high nutritional content so you can be assured that your family is getting the proper nourishment you need to survive.
All of Legacy's ingredients have been certified GMO-Free, and many of their meals are Gluten-Free as well.
Extensive Variety
With Legacy's wide array of meal choices – 4 breakfasts & 12 entrees in their food storage packages, (and we also offer real meats, side dishes, fruits, vegetables, beverages and bulk food items) – your whole family will be thrilled with the variety of choices available.
Affordability
Perhaps most surprising is Legacy Premium's affordability. Compare the "Cost per 2,000 Calories" and you'll find that Legacy Premium Food Storage offers the absolute best value for your food storage dollar!
Serving sizes may vary from person to person, and from company to company. But two thousand calories – typically what an adult would need each day in a survival-type scenario – represents a stable, constant value that can actually be measured and evaluated.
We have calculated the total calories in each food storage kit, and divided that total by 2000. The result is the number of days the kit will last at a consumption rate of 2000 calories per day.
It's also important to note that Legacy Premium does not include 'side dishes' as a serving in their food storage packages. This means that all of the servings in your food storage kit are actually nourishing food that your body can use – not just a sauce or a drink.
When you compare the cost of 2,000 calories among various food storage companies, you'll find that Legacy Premium is one of the lowest priced emergency food storage solutions available anywhere.
Our article about 2,000-Calorie Days offers a detailed explanation of why measuring your food storage costs based on that 2K-per-day formula works so well, and why Legacy Premium really is a better value compared to our competitors.
Legacy Premium Foods: Raising the Standards of Emergency Food Storage
Certified GMO-Free
Legacy Foods ensures that all of their products are Certified GMO-Free. All suppliers are required to provide certificates proving that they do not use GMO ingredients.
Additionally, Legacy's partnership with Honeyville Foods further assures strict adherence to established GMO-Free Guidelines. We believe this is critically important, as more and more people are becoming aware of the potential hazards of genetically modified foods, and have chosen to eliminate GMOs from their diets.
  Gluten-Free Options
Legacy Premium has created delicious, completely gluten-free menu choices. Within their Food Storage Packages, Legacy Premium's gluten-free lineup includes six delicious entree choices. In addition, many of Legacy Essential's Side Dishes and Beverages are also gluten-free. This means you can easily accommodate any of your family members who have special dietary needs.
Legacy Premium goes to great lengths to avoid cross-contamination when producing gluten-free menu items.
Legacy's facility management team takes extra precautions before any food is made on the equipment, including the removal of air-borne particles in the production environment and complete sterilization of all equipment.
25 Year Shelf Life
Legacy Premium's superior packaging methods assure a long shelf life – up to 25 years for most products!
Oxygen Is the Real Enemy
Residual oxygen left inside a container is a primary cause of food spoilage. Oxygen allows bacteria to grow, which causes the food to decay and spoil.
The bare minimum standard for long term food storage is to maintain residual oxygen levels below 2%. Independent tests have shown Legacy Premium Foods to have an average of 0.11%, which far exceeds the industry standard.
Each pouch is nitrogen-flushed to force out excess oxygen.
An oxygen absorber is then put inside each pouch.
A compression sealer then triple seals the Mylar pouch to ensure that it will stay sealed.
Pouches are then put in heavy-duty, resealable buckets for easy storage and transporting, as well as additional protection from sunlight, moisture, rodents, and other environmental factors.
This extensive packaging ensures that your food will remain fresh in its pouch for up to 25 years.
When you purchase your long-term food storage from Legacy Foods, you can rest assured that your food is going to last. Enjoy the peace of mind of knowing that your food storage investment will be there when you need it!
Take the Hassle Out of Emergency Food Storage with
Legacy Premium Foods
Convenient Packaging ~ Quick & Easy to Prepare
Legacy Premium Food Storage Packages
Legacy Premium Food Storage Packages are complete meals, freeze-dried and conveniently packaged in heavy-duty Metallite pouches, with four servings in each pouch.
The pouches are put into heavy-duty, stackable, resealable buckets to further protect them.
Each pouch is nitrogen-flushed, has an oxygen absorber, and is triple-sealed to ensure a long 25-year shelf life.
Legacy Premium Food Storage Meals are quick and easy to prepare: simply add water, heat and serve. Meals are ready in about twenty minutes.
Our food storage packages provide the best nutritional value for your dollar. And they take up less of your food storage space.
And in independent blind taste-tests, four out of five people chose Legacy Foods as "Best Tasting" in the food-storage industry. Whoever said that survival food had to be bland and boring … was wrong!
Legacy Premium Bulk Food Storage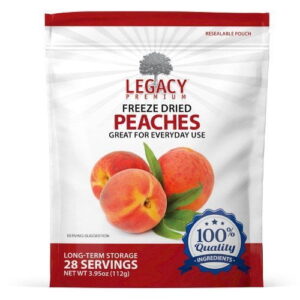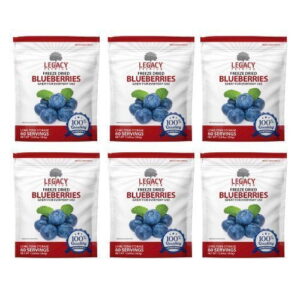 Legacy Premium Bulk Foods are individually packaged food products. They are in pouches that contain about a pound of dry food – some more, some less, depending on the particular item – and have varying serving amounts, again depending on the product. You can serve them on their own, or use them to supplement other meals, either as side dishes or in your favorite recipes.
Our bulk foods are packaged in heavy-duty, resealable Metallite pouches. A nitrogen flush combined with an oxygen absorber assure a long shelf life – up to 10-15 years for most items.
Legacy Bulk Foods are quick and easy to prepare: simply add water to rehydrate. Or you can add them to your other favorite recipes.
Many of our bulk foods – like apples, peaches, strawberries and more – can be enjoyed right out of the pouch! They're perfect for a healthy between-meal snack!
Like all of Legacy Foods products, Legacy Bulk Foods are Certified GMO-Free, so you can be assured you're feeding your family healthy choices of whole foods that have not been genetically modified.
Legacy Premium Is Your Best Value in Food Storage!