Safety Technology Stun Bat with Flashlight
Walk Softly, and Carry a Big Stick Safety Technology Stun Bat
The Safety Technology Stun Bat is constructed of strong, aircraft grade aluminum.
With a length of over 16″, the Stun Bat is a solid striking weapon.
The intimidating stun power arcs brightly and loudly enough to dissuade most confrontations before they begin!
Featuring a super bright 220 lumen flashlight, opponents are easily blinded and disoriented. The flashlight has 5 modes:  100% brightness, 70% brightness, 30% brightness, Strobe, and SOS.
The Safety Technology Stun Bat is made from the highest quality components, and comes with a Lifetime Warranty.
Stun Bat Features:
Strong Aircraft Aluminum Construction
Rubber Handle for a Firm Grip
Long Reach: Measures 16-7/8″ x 1-3/4″
Powerful Stun Gun

4.9 milliamps depending on the charging condition of the batteries
80 Million Volts

Built-in 220 Lumen LED Flashlight with Five Light Modes:

100% Brightness
70% Brightness
30% Brightness
Strobe
SOS

Built-in Rechargeable Ni-Cd Battery
Charging Cable
ON/OFF Safety Switch
Belt Clip
Lifetime Warranty from Safety Technology
What You Get:
Safety Technology Stun Bat with Flashlight
Charging Cable
Belt Clip
Lifetime Warranty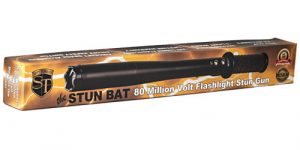 Restricted Items Notice:
Stun Guns Are Restricted in Some States.
Please See the "Stun Gun Restrictions" Tab (above) for More Information and to Determine if a Stun Gun Is Legal in Your State.
See Our Stun Gun Laws Page for More Information, Or Contact Us for Details.